Alan Bissett: Moira In Lockdown (Plus Live DJ Set)
Oran Mor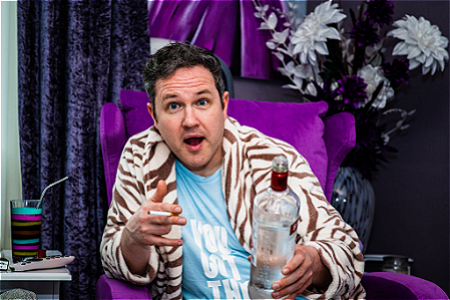 In this third and final hilarious installment of Alan Bissett's hit Moira Monologues trilogy, Falkirk's hardest woman, Moira Bell, faces her toughest challenge yet: surviving a pandemic with only vodka, fags and her BFF Babs on Zoom. Take that, Bear Grylls!
Journey through the highs and lows of lockdown with writer-performer Alan Bissett returning as Moira, as she lusts after Joe Wickes, rages at Dominic Cummings and grows her own weed "might as well, seeing as the f**kin world's ending, eh Babs?".
PLUS! Live DJ set from Alan after the show!
Full price tickets include entry to Alan's post show party, if you can't make the show you can purchase a 'DJ Only Ticket' for £5!
'She's 'the most charismatic character to appear on a Scottish stage in a decade' (Scotsman) but this time she canny even leave the hoose!
'Moira's back-to-the-wall willingness to take on all-comers is the constant powerhouse of Alan Bissett's humour.' ***** Broadway Baby
'Heart-stoppingly funny, and heart-warming, Alan Bissett has created nothing less than an hour of storytelling perfection.' ***** The Quintessential Review
'Hugely entertaining and strangely moving.' **** Scotsman
'Bissett's skill as a writer-performer with Moira has always been to take a potentially one-note character and add new dimensions to her, without ever intruding upon his vicious one-liners. For his 2022 show, he excels at making Moira's lived experience universal while keeping her edge.' **** List
'Keenly felt, dryly observed and hysterically funny' **** British Theatre Guide
Written and performed by Alan Bissett
Directed by Sacha Kyle