Trigger Warnings
McChuills
Tuesday 21st March 2023
Wednesday 22nd March 2023
Show time: 8:00pm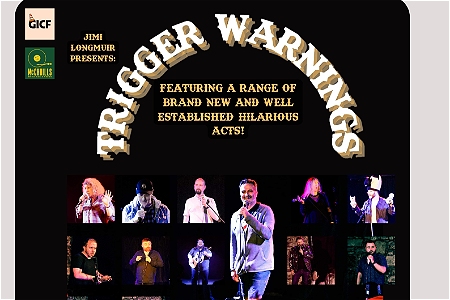 We are incredibly proud to announce Trigger Warnings will be back at McChuills for our third year at GICF! Featuring a wide range of brand new and experienced fantastic acts, Trigger Warnings is a compilation show like no other. Since beginning in 2019, we have enjoyed runs at GICF 2019, 2022 and a four night stint at Edinburgh Fringe 2022.

Acts include host Jimi Longmuir, as well as Adele Birkmyre, Craig Scott and Brian Kavanagh. These four first performed together at last years Trigger Warnings shows and enjoyed the experience so much they went on to have a phenomenal sell out run of shows as the 3 out of 4 Tw@ts at the Fringe! All four of them will be back in 2023, alongside many other outstanding acts, new and familiar, for two nights of amazing comedy at McChuill's on the High Street in Glasgow!

For our GICF 2023 shows, on the 21st and 22nd March, Trigger Warnings aims once again to entertain by bring a healthy mix of acts with a unique experience for performer and audience alike.
Our show's ethos is to put on a show with a vibrant mix of comedians at all levels, with no one act above or below another. As our past audiences can attest, that means we always ultimately provide an exciting and fun night of Stand Up Comedy!