Sauchiehall Comedy Club
Nice N Sleazy
From Wednesday 15th March 2023
Show time: 7:00pm (Doors open: )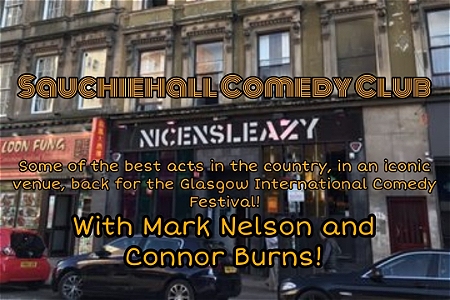 The legendary Sauchiehall Comedy Club in the iconic Nice N Sleazy basement returns for two special shows during the Glasgow International Comedy Festival! Bringing you the best up and coming acts in the country alongside some special guest headliners!
Past acts have included Susie McCabe, Kai Humphries, Rosco Mclelland and Chris Macarthur-Boyd!
In a room that feels like it was built for comedy, emulating the basement comedy clubs of New York, come see some of the best the country has to offer in one of Glasgow's most iconic bars!
The best new comedy night in Glasgow, packed to the rafters and filled with laughs, Sauchiehall Comedy Club is the best place to see the best new acts in the country alongside some of the leading comedians the circuit has to offer!
To celebrate the comedy festival, we're putting on two shows instead of our usual one in March! And both will be jam packed with some of the best in the business, you won't want to miss it!
15th, Host: Paddy. Headliner: Connor Burns + Ross Daly, Daniel Petrie, Chelsea Young, Jay Lynch, Kyle Samuel, Mark Black, Thomas Elvin.
29th, Host: Jacky Traynor. Headliner: Mark Nelson + Sean Chalmers, Amanda Hursy , Peter Bell, Mick McNeill Brian Kavanagh, Tattoo Dave