Philipp Kostelecky: Daddy's Home
Van Winkle West End
Saturday 1st April 2023
Show time: 7:00pm (Doors open: )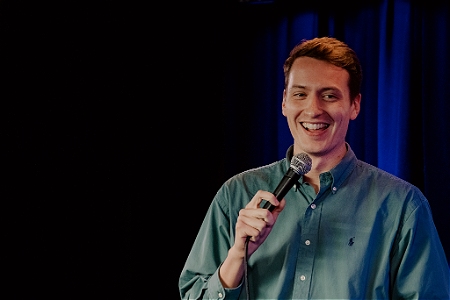 International comedian and favourite child* Philipp Kostelecky is fresh off of a sold-out European tour and is bringing his show to Glasgow. With a unique brand of comedy that combines whimsical observations and a high-energy performance style, Philipp creates imaginative stand-up that absorbs the audience into his performances examining the mundane and dark aspects of culture and the human condition.
Daddy's Home is a hilarious hour of stand-up about living away from home, pursuing your dreams, and there's a great joke about pancakes at the start.
*citation needed=mother?
Quotes about Philipp:
"Superb observations, confidence, and enough charisma to fill big rooms – which he will, very soon… ." – Russell Kane
"Tongue-in-cheek provocative material" – Chortle
"I cried with laughter. Some of Kostelecky's impressions and accents were pitch-perfect, like those performed by a young Jim Carrey" – The Founder
"His charisma and stand-up comedy captivated the audience from the moment he stepped onto the stage" – The Orbital Magazine
"Confident, funny, calm – the audience loved him." – The Stand
Accolades for Philipp:
– Selected for the prestigious AAA Comedy Showcase 2022
– Tour Support for Russell Kane 2021
– Winner: Southend New Comedian of the Year 2021
– Winner: King Gong Comedy Store 2019
– Winner: BBC Student Radio Award