Magic Mike (Not The Stripper)'s Magical Mystery 45 Minutes (Or Thereabouts)
Thursday 1st January 1970
Show time: 12:00am (Doors open: 12:00am)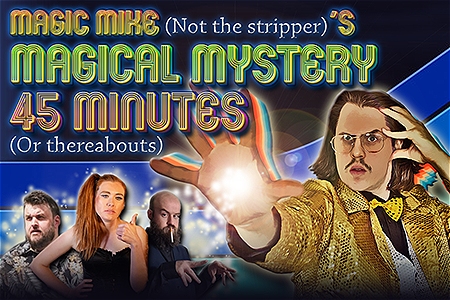 Blackpool's least favourite son (and Alakazammy award winner for most innovative based animal illusion circa 1983) makes his inexplicable return to stage!
Mere months after his unceremonious dismissal from his twenty five year residency at Blackpool's North Pier Theatre, Magic Mike (the magician, not the stripper) is back on the horse and out to prove that both he and his act are in fact still relevant in an ever-changing, modern world full of tik-tok videos and knife crime.
Join Mike, flanked by glamorous assistants Craig and Donna and featuring tour support from legendary club comic Blue Tony (best remembered for his starring role in the nationally broadcast 1981 public information film, "Conkers: The Devils Marbles") as he hits out on his own, now mercifully unencumbered by the dead weight of his previous management team – who, to be fair, only ever resented his success, even from the get-go – for an evening of magic, illusion and wizardry, even though all those words all basically mean the same thing.
"Dazzlingly upsetting"
– Derek Bread, Cockington Gazette
"…Five…" "…Stars…"
– The Morecambe Tribune