Fred MacAulay: What (Ever) Next?
Oran Mor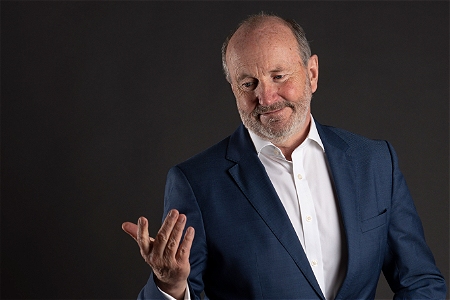 Veteran Scottish stand-up comedian Fred MacAulay returns to Glasgow with a brand new show after a sell out Scottish tour.
Stand-up comedy was hit pretty hard by the pandemic and gigs were cancelled as soon as the country went into Lockdown. Fred says: Putting things in perspective though, there are many things far, far worse than your job disappearing for 18 months, but now that masks too are disappearing (at least they were when I wrote this) it's time to get back into theatres and halls for a bit of a laugh.
Fred continues: Gigs started back in July 2021, then there was a 'mini-Fringe' in August and things started to recover till Omicron arrived and we got knocked for six again. I can't wait to get on the road with this show. I've been very fortunate in my career and have done a lot of radio and television shows over the years… but what I absolutely love more than anything (about my job) is standing on stage and making a room full of people hoot with laughter… especially in Scotland.
Expect to hear tales of Lockdown weddings, gags about complying with the regulations, isolating, things that bind us together … . (like finding out that your bottle bins were too small), ZOOM gigs, Carpark gigs, Teams gigs, the tribulations of getting a train ticket refund, nuisance phone calls… and … OH YES… impending grandparenthood!