Far East Enders
Basement @ Tennent's Bar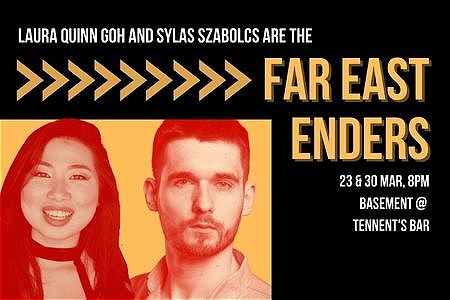 The eastern ends of the world unite in this comedy double bill! Laura Quinn Goh hails from the far east that is sunny Singapore, while Sylas Szabolcs from Romania is a comrade of the eastern bloc. The Glasgow-based pair makes vivid their personal lives and the immigrant experience through incisive observations and dark twists. For anyone fresh off the boat or natives keen to see their home through new lenses, this duo delivers.
Laura Quinn Goh
Laura Quinn Goh stormed the Scottish stage in late 2021 with her authentic observational comedy and wicked humour. Within her first year in Scotland, the young and ambitious comedian played at comedy clubs and nights across the country, including the famed Glee Club, and became a weekend regular at comedy institution The Stand.
Warm persona, very self-deprecating." – The Stand
"Genuine and original observational comedy." – Rotunda Comedy Club
Sylas Szabolcs
Trained as an actor with a couple of BBC credits under his belt, Sylas Szabolcs was flirting with stand-up already back in 2014. But in 2022 he went all in.
"The crowd seemed to kind of like him… "- The Stand. He kind of likes his audience too!