Eliott Simpson & Simon Jay: A Stars! (WIP)
Gilchrist Postgraduate Club
Friday 31st March 2023
Show time: 8:00pm (Doors open: )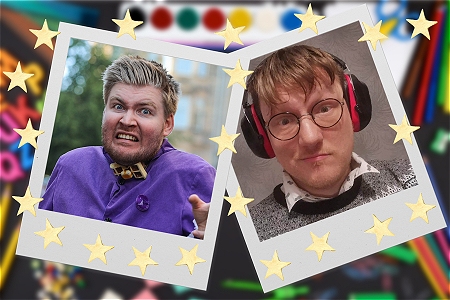 Eliott Simpson, critically acclaimed autistic asexual comedian and Simon Jay, award-winning autistic gay writer & performer are here to present the seedlings of what will (hopefully) become their new fully-fledged solo shows! Come enjoy a casual, informal, and sensory-friendly evening with 2 of the UK's most proficient and acclaimed autistic comedians!
Much like society's attitude to accommodating neurodiversity, this show is a Work in Progress, but nevertheless shall feature fresh new material from 2 of the UK's best A(spie) stars!
So pull up a chair, grab some cake, pour some tea, and indulge in a hilarious evening of cosy comedy with a couple of corking comics!
. 'A gay socialist who usually prefers playing women' – The Guardian
. 'Silly and very, very funny… with so many gags and one-liners, they are unrelenting" – Neurodiverse Review four Stars!
. Actually Autistic Excellence Award Nominee 2022
. Proud Scotland Award Nominee 2022
. As seen on BBC Scotland
. As heard on BBC Radio Norfolk & Suffolk
. Winner of the North East Theatre Award 2018