Drag Queen Power Ballads
Room 2
Thursday 30th March 2023
Show time: 8:00pm (Doors open: )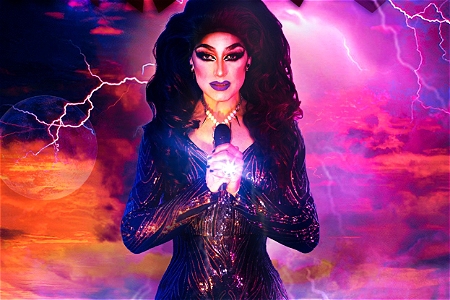 The Phoenix Arts Club is proud to present Drag Queen Power Ballads, a brand-new show fusing together the most dramatic and over the top concepts in popular culture: drag, and power ballads! Expect a balls to the wall tour de force powered by crashing drums, blazing guitars and the voice of Drag Queen Power Ballads' star diva herself, Vanity von Glow.
From Meat Loaf to Aerosmith, Prince to Celine Dion there is only one drag queen who can deliver the ultimate live power ballads show – uber-diva Vanity von Glow. With pipes to rival Bonnie Tyler and hair to make Bon Jovi's stylist weep, Vanity brings the show to Glasgow.
Audiences know every song and can't resist joining in on air-guitar for every single solo as power ballad enthusiasts unleash their inner rock Gods!
If you Want To Know What Love Is, then this is the show for you. Nothing's Gonna Stop Us Now as Vanity rocks our souls with a soundtrack of life affirming anthems.