Clay Horwitz: Vibe Check!
Max's Basement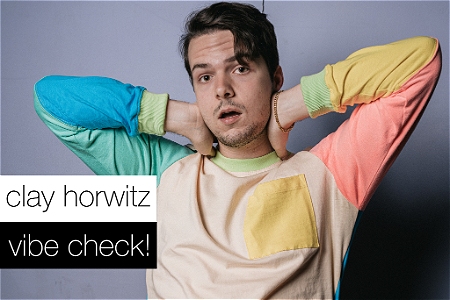 Clay Horwitz is 24. He's young, confused, broke, drunk, high, and has no idea how to be a real adult. He's lived in the USA's three biggest cities: LA, Chicago, and New York; and has traveled around the country and the world performing stand-up comedy and soaking up the weirdest experiences life has to offer. His uniquely sharp stories about his mess of an existence and hot takes on our modern society are ones only he can bring to the table as a disoriented young adult trying to discover his place in the world.
His one-of-a-kind interactive stand up comedy show is able to reach a young audience in ways that only someone of his age would be able to. As he is learning and growing in the moments before, during, and after his sets, people in their 20s are able to connect with him immensely as he makes it easy to step into his shoes and feel safe.
Clay Horwitz is an Los Angeles-based comedian, writer, and director. He frequents sold-out comedy clubs all across the world, spanning from the legendary Laugh Factory in Hollywood, to Zanies in Chicago, to the London Underground in Prague, Czech Republic. His self-produced live show, Clay's Comedy Bash, debuted in Spring 2022 and most recently sold out The Comedy Chateau in Los Angeles. He is currently employed on an Apple TV+ Original Comedy Series that is set to air in 2023.