BRIT(ish)
Van Winkle West End
Sunday 19th March 2023
Show time: 5:30pm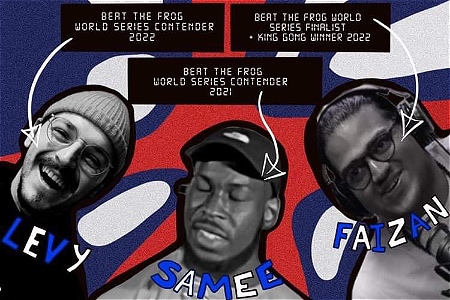 What do you get when a Pakistani, a Nigerian and a Romanian walk into a bar?
Three twenty somethings talking about their problems at an open mic. Brit(ish) is a show where they bring you 20 minutes each of cutting edge stand up that will have you rolling.

Sam Ayinde is a London born, Kent raised and Manchester based writer and comedian, personal chef, midwife and guru.
Starting after the pandemic, Sam has gone from strength to strength in comedy with his sarcastic tone and edge of your seat material regularly killing crowds.
"I only caught the first 2 minutes but it sounded like you knew what you were doing."
-Russell Howard
"Sam Ayinde is a triple threat, smart, funny and intelligent,so much that it's got me looking for job vacancies."
-Dane Baptiste

Faizan is a Manchester-based comic who moved to the UK as a child, his well-crafted jokes make light of growing up in an immigrant household and the inevitable mental health challenges it brings. The quality of Faizan's joke writing, and affable stage presence has seen him progress quickly from beating Comedy Store's King Gong and Frog and Bucket's Beat the Frog to now breaking through the circuit with a strong 15-minute set.

Levy started his standup journey in Manchester just over an year ago. Now he's in London and everything in his life is going well, why do you ask?
Levy has a lot of issues and he enjoys addressing them on stage.
If you like dark, twisted and surreal (at times) comedy he's your guy. In only one year in comedy Levy managed to appear on the tv show iUmor and he's been gigging at some of the UK's most famous venues.