Su Mi: Banana Beard
Thursday 1st January 1970
Show time: 12:00am (Doors open: 12:00am)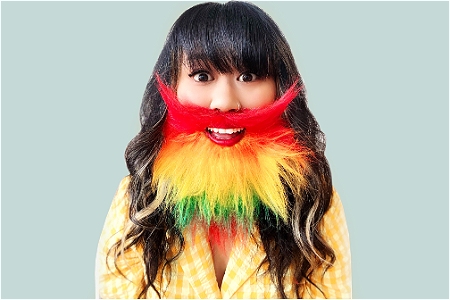 Think it's a Stand up solo show? Think again. This immersive comedy invites you all on a surreal misadventure of absurdist sketch , untamed thrash metal guitar solos and imaginary costumed personas.
Expect high energy , wild storytelling and whimsical uplifting nonsense left right and centre.
A wild, offbeat and exciting exploration of Stand-up, Musical and Character comedy, this one woman show celebrates the human experience growing up as an immigrant child of South-East Asian descent , born and bred in the treacherous depths of East London.
Su Mi is a British Malaysian Alternative Comedienne & Musician sharing her cultivating tales of her own cultural identity. Social commentary on Intersectionality , Queerness , Racism and Mental health as a Woman of Colour growing up in the Western world. Breaking stereotypical barriers of what a typical 'Asian Woman' should be and representing a voice that does exist in audiences, especially in the comedy world.
SOLD out shows for her one woman show ' Banana Beard' at the Camden Fringe and performing at Women in Comedy Festival 2022. BBC New Comedy award Nominee 2022 , WINNER of Queerovision 2022 , WINNER BEAT THE FROG 2022, Rising Star finalist 2022 , Hastings Newcomer award Finalist 2022, Semi-finalist for the Comedy Max Turner prize 2021 , Semi- finalist for Get Up stand up 2022 , Semi- finalist for Get Up Leicester Square New Comedian of the year 2022 , Semi- finalist for 2 Northdown and Quarter- finalist for SKETCH OFF 2021.