Amelia Bayler: Singing Lessons (WIP)
Van Winkle West End
Thursday 30th March 2023
Show time: 8:30pm (Doors open: )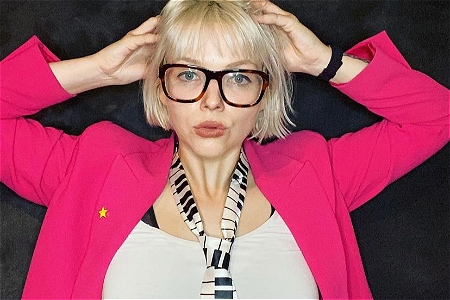 Musical comedian Amelia Bayler has been working at a desk job, living a stable existence and slowly losing her mind. She decides to quit her job on a whim and travels to London to do comedy gigs. She reconnects with her family and discovers her grandfather was a key figure in the music hall scene. Her family encourage her to sing again and arrange for her to take singing lessons. After spending time with family and finding her voice, Amelia begins to discover the joy in the unexpected and the unpredictable.
'Rising star of the Scottish circuit.' – Skinny
'She embodied the corrupting influence of a secondary music teacher gone mutant.' – British Comedy Guide
'Set constantly on over-share mode, her stand up is a stream of consciousness deluge on sobriety, sexuality and relationships delivered with an earnestness often missing from young comedians.' – The Wee Review
'Snack food, nu-rave pioneer.' – The Scotsman
As seen on BBC Scotland's The Comedy Underground, BBC Short Stuff, Channel 4 Sparks, BBC Sounds and BBC The Social.
@ameliabayler
Tik Tok and Instagram: ameliabayler
www.ameliabayler.com