Alan Bissett: The Moira Trilogy
Websters Theatre
Sunday 17th March 2024
Show time: 7:00pm (Doors open: 18:30)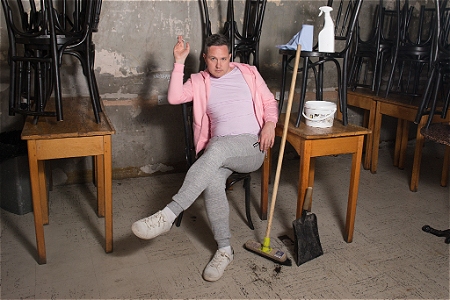 Since 2009, Alan Bissett's 'one-woman show' The Moira Monologues, about Moira Bell – single mother, cleaner and Falkirk's Hardest Woman – has been leaving audiences all over Scotland weak with laughter and garnering rave reviews.
Alan continued Moira's story with More Moira Monologues in 2017, which won a Fringe First and was shortlisted for Best New Play at the Critics Awards' for Theatre in Scotland (CATS), then 2022's Moira in Lockdown. Both were just as acclaimed by critics and audiences as the original.
Now, for the first time, Alan will be touring all three shows as a 'one-nighter', giving audiences the chance to experience Moira's hilarious journey in a single sitting.
Part 1 – The Moira Monologues
Part 2 – More Moira Monologues
Part 3 – Moira in Lockdown
'A near-perfect series of monologues, both howlingly funny and unnervingly sharp and poetic.' The Scotsman *****
'Such a riot my ears popped a couple of times from the row behind me shouting with laughter.' The National *****
Directed by Sacha Kyle
Running time: 3 ½ hours (including two intervals)